Professional Commercial Plumber at Your Service, Call All Star Plumbing & Restoration!
An unexpected plumbing problem can sideline the entire flow of your business. It can even threaten you to temporarily shut down your operations until the plumbing issues are being fixed. At All Star Plumbing, we take our business very seriously, so we understand how important yours is to you. That is why we offer fast and affordable commercial plumbing solutions for all types of businesses in and around San Diego, CA. All Star Plumbers are just a phone call away from you.
All Star Skilled and Reliable Commercial Plumber San Diego, CA
Our commercial plumbers will always arrive on time at your business property in San Diego, ready to handle a plumbing event of any size and type, and leave your premises spotless once the job has been completed. Our teams take use of the latest tools and technology in plumbing repair and restoration to get your plumbing issues fixed fast and efficiently. If you have any concerns about our commercial plumbing San Diego, feel free to call us and our customer representatives will assist you.
Commercial Plumbing Services in San Diego by All Star Plumbing
At All Star Plumbing, our commercial plumbers and technicians offer a wide range of plumbing services to businesses in and around San Diego, CA. Our commercial plumbing service lines in San Diego includes, plumbing fixtures and systems repair, installation and replacement, commercial property repiping services near you, sewer and drain services and even 24/7 emergency commercial plumbing services to all businesses in San Diego and surrounding areas. No job is too small or too big for our teams.
Contact the Specialists in Commercial Plumbing San Diego, CA
Don't take chances with your plumbing! Contact All Star Plumbers, the specialists in commercial plumbing San Diego, CA. Feel free to contact us to request a free of charge quote for your plumbing job or to schedule a service appointment. If you require instant plumbing services, give us a call and our emergency commercial plumber will be at your business property to assess your situation and resolve all your problems.
All Star
Commercial Plumbing Services
We at All Star Plumbing, offer a wide range of commercial plumbing service lines for our commercial clients throughout San Diego and in neighboring communities, that covers any and all types of plumbing issues they face at their business properties.
24/7 Emergency Commercial Plumbing – Our 24 hour emergency commercial plumbing services are available to all types of businesses in and around San Diego, CA. You can call us at any time of the day or night as our teams are always on call.
Plumbing Repair Services – From a leaky faucet to a gushing leak from a broken pipe in the main line of the building, we repair all types of plumbing fixtures and systems. Our teams are capable of accurately diagnosing the underlying cause of the plumbing issue.
Plumbing Installation and Replacement – We install plumbing fixtures to newly built commercial properties as well as replace existing plumbing fixtures. From faucets, sinks, garbage disposals, water heaters to water softeners, we install and replace them all.
Commercial Repiping Solutions – As a licensed and certified plumber in the state of California, we can perform full repiping of your commercial property. If you are planning on remodeling a washroom at your business place we can help with that as well.
Commercial Sewer and Drain Services – Our experts in sewage and drain cleaning services are capable of handling everything from fixing your clogged drain pipes to restoring a burst sewer line or a sewage overflow, fast and efficiently.
All Star
Commercial Plumber in San Diego
At All Star Plumbing San Diego, we have designed our services in a way that covers all of your plumbing requirements at your commercial property. From repair, installation and replacement, we are your one stop commercial plumber near you.
Washroom and Other Indoor Plumbing – Our plumbers repair, replace and install all indoor plumbing fixtures and systems, from the toilets and washlets in your washrooms to other sinks, faucets and pipelines running throughout your property.
Garbage Disposals, Water Heaters and Water Softener Services – We repair and install a variety of plumbing fixtures, widely used in any commercial establishment including garbage disposals, water heaters, water softeners and other plumbing fixtures.
Water Leak Detection and Repair – Our teams carry out a thorough inspection of your entire property to detect areas with leaky plumbing and fix them. We take use of cutting-edge technology to detect even the most hidden water leaks within your property.
Sewer and Drain Cleaning Services – Our drain cleaning services include drain snaking, camera based drain inspection, drain unclogging and restoration of burst sewer lines and main line drains. We even take use of technologies such as hydro-jetting.
Backflow Prevention – Get rid of the possibilities of contamination of your supply of fresh and clean water, from back pressure or backsiphonage with our backflow prevention plumbing. We can provide the assistance you need to prevent backflow at your property
All Star 24 Hour Plumbing Services
All Star 24 Hour Plumbing Services are available to all places across San Diego, CA. Contact us in case of any plumbing emergency and our teams will be at your commercial property to save you from all your plumbing troubles.
24/7 Services – Discovered your sewer lines are clogged early in the morning? Need to fix your broken pipes before or after your business hours? We are available at any time of the day or night to solve all your plumbing problems at your business. If it is an emergency situation that requires immediate plumbing services, contact us right away and we'll be there to fix your issues.
Service and maintenance – Contact us to schedule a service appointment for your business property. Feel free to choose any day at any time that works for you. If you want the servicing to be done outside your business hours, we can easily schedule that for you. Our plumbing servicing teams are available on public holidays, throughout the weekend and 24 hours daily.
Plumbing Installation and Restoration – Need some plumbing fixtures to be installed? Are you planning on a full repiping of your commercial property? Call All Star plumbing for a free consultation on how to proceed with the installation or replacement.
Why go for All Star Plumbing Services in San Diego?
Why go for All Star plumbing repair, installation and replacement services in San Diego, CA? Here are some of the points worth mentioning about why clients continually choose us over many other similar services providers.
24/7 Rapid Response – We understand that quick response and fast action can make work easier when it comes to plumbing repair and restoration services. That is why we offer 24 hour emergency plumbing services to all businesses across San Diego, CA. All it takes is only one phone call to reach us and our teams will be on their way to your property to resolve all your problems.
Affordable Pricing Options – We offer services at reasonable prices, as well as ensure that there are no hidden costs to surprise you later. For replacement and extensive plumbing restoration, we also help you get low cost but certified plumbing products and fixtures. Call us to get a free quote for your commercial plumbing job; we are confident that we will be able to offer you a great deal.
Discreet, Polite and Confidential – Our teams are discreet and respect confidentiality about any kind of client situation they come across. They are good at listening to your requirements and concerns, and offering you optimized solutions that fit your needs, interests, timelines as well as your budget. Our plumbers and technicians are friendly and polite people, who will deliver your plumbing requirements exactly in the way you wanted them to be.
PROFESSIONAL DISCOUNTS
FREE ESTIMATES OR QUOTES
LICENSED AND INSURED
DISCOUNTED INSURANCE DEDUCTIBLES
FREE 24/7 EMERGENCY SERVICE
60 MINUTE RESPONSE TIME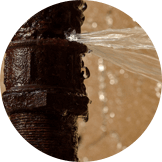 Water Damage
Certified water damage specialists, with over 20 years of experience in restoration.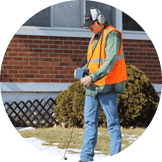 Leak Detection
We have sophisticated leak detection tools to find any water leak, large or small.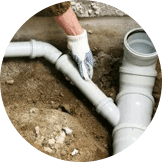 Slab Leak Repair
We can identify slab leaks beneath your foundation and repair them quickly.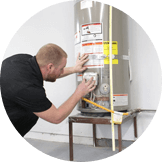 Water Heaters
Weather you need a brand new water heater, or just a repair, we can get your hot water back.