Are you in search of slab leak detection experts?
Call All Star Plumbing Service in Riverside and let go of all your concerns.
Property owners in Riverside understand that slab leak is a very serious problem. Water damage can transform even the most comfortable living places into an awful mess that might cost a lot to repair. Leakage can happen at any time, and a slab leakage might even cause a lot of damage in no time. Getting a leak detection done is the best technique to control such scenarios from happening.
All Star Plumbing have the experts in slab leak Riverside for both commercial, and residential properties. Our skilled and experienced leak detection team will help you to find out the exact location and extent of leakage using the latest in inspection equipment. We also fix slab leak issues and get the affected part of your property back in order.
All Star Plumbing Service has been providing slab leak detection, repair and repiping services in California for decades. We ensure that our customers get the best service and the best solutions at reasonable prices. Our plumbing repair services have guarantees.
All Star Riverside's slab leak detection services are affordable and efficient
Plumbing problems are difficult to solve especially when your plumbing runs underneath your home's concrete slab foundation. Slab leak Riverside can occur due to breaks, cracks or other issues in a pipe that runs beneath the concrete foundation of your home or office.
We detect leaks non-intrusively, which needs specialized equipment and inspection done by licensed plumbers. Our plumbers are not only licensed, but also have training and experience in accurate and speedy leak detection and repair. They can not only repair the pipes efficiently, but can also relocate your pipes in a more accessible location behind your home's walls or ceilings if you decide to re-route your pipes.
To have the services of such quality and Expert professionals, contact All Star Plumbing slab leak Riverside CA. The plumbing products we install or replace are of high quality, come with warranties and are affordable. Our slab leak Riverside CA team will provide you durable solutions.
Contact our Slab Leak Detection and Repair Experts in Riverside Anytime You Need Them
We operate 24/7. If slab leakage remains undetected for long, it can damage your walls and flooring leading to expensive repairs. It is recommended to schedule slab leak inspection at fixed intervals.
There are some signs that indicate a slab leak, such as sounds of running water, sudden unaccounted for increase in water bills, warm or wet spots on the floor, cracks in the floors, etc. If you notice any such sign, get a slab leak detection done. This involves diggings to reach the pipes. The finer the digging, the less damage possibilities to a building's construction material. When you contact All Star, you can rest assured that our plumbers use the best equipment such as:
Electronic Amplification equipment – The sound sensors are used in slab leak detection to hear through layers of hardscape to locate the sound of dripping or gushing water. In short, it works like a stethoscope.
Electromagnetic pipeline locators – These tools are more like radio antennas, sends out signals of electrons which are picked up using a receiver allowing the plumber to locate the pipe location under the slabs and find abnormalities.
Video pipe inspection equipment – Miniaturized Cameras are used on the end of fiber-optic cables to inspect down into the pipeline. The video feed on a monitor helps the plumber to locate the exact location of the leakage by giving the view of the pipe interiors.
Why Choose All Star Plumbing Slab Leak Repair and Repiping Services?
We can ensure that you will get top-notch slab leak Riverside CA from us. All Star Plumbing Service is always ready to give their best for their customers. All our plumbers and support staff are highly trained. They will take care that all required steps to provide highly effective solutions for fixing slab leak problems are executed, and you are left with no lingering issues.
The Repiping Services We Provide Include
Replacing damaged pipes with new ones
Rerouting the pipes
Getting pipe coatings done
We provide 24/7 emergency services. It doesn't matter whether it is morning, noon or midnight, we'll always respond to your call for help immediately. Our customers are our top priority. If you suspect a slab leak, do not delay in calling All Star Plumbing Service. We can get an inspection done as soon as you would like it done – within minutes, hours, the same-day or any day you choose.
PROFESSIONAL DISCOUNTS
FREE ESTIMATES OR QUOTES
LICENSED AND INSURED
DISCOUNTED INSURANCE DEDUCTIBLES
FREE 24/7 EMERGENCY SERVICE
60 MINUTE RESPONSE TIME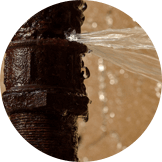 Riverside Water Damage
Certified water damage specialists, with over 20 years of experience in restoration.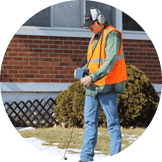 Riverside Leak Detection
We have sophisticated leak detection tools to find any water leak, large or small.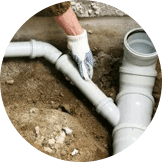 Riverside Slab Leak Repair
We can identify slab leaks beneath your foundation and repair them quickly.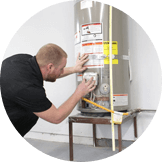 Riverside Water Heaters
Weather you need a brand new water heater, or just a repair, we can get your hot water back.