The Consequences of Delaying Water Heater Repairs: Don't Ignore the Signs!
Water heaters play an essential role in everyone's life these days, especially in winters. The reason is everyone wants a good hot shower after a long and tiring day, and it is the water heater that offers this opportunity to us. But can you imagine that you are taking a hot shower on a chilly morning one day, and suddenly cold water hits your body instead of hot?
That means your water heater needs repair, so you have to call water heater repair experts in San Diego. If you don't call them sooner or later, you are bound to see signs that your water heater needs repair. No matter what's the issue with your water heater, if you don't call the professional in some time, it becomes mandatory to replace your water heater. In short, not taking action as soon as possible indeed makes a hole in your pocket.
Some of the common signs your water heater needs repair: –
The water heater is not heating water
The water heater is leaking
Offering rusty water
The water heater is too old
The heater inlet valve is leaking
The water has a metallic smell or taste
The water heater makes a rumbling sound
Only offering cold water
Significance Of Water Heater Repair & Replacement
The water heater is the most used appliance in the houses. Plumbing and heating both encourage maintenance at proper timings. It will keep the water heater's performance more accurate for an extended period of time. If you see any problem, replace or repair the water heater in time.
Sometimes you move to a home that already has a water heater installed in it, then make sure to inspect it properly before using it. All the water heaters have a serial number and manufacturing sticker, which can give you the full information about the water heater's date of manufacturing. This will also help you to identify the life of the water heater.
Many times, replacing the water heater is less expensive than repairing it. The reason is the water heater may require repetitive repairs and can cost a lot. This replacement of the water heater can save electricity bills. The old water heaters, especially those older than a decade, will take more power and need repairs after some days.
As a homeowner, if you want to replace or repair your water heater, All Star Plumbing & Restoration is the best choice. The reason is they have highly skilled, experienced, and qualified people who will do the work with satisfaction. There are some consequences that you can face due to delay in the plumbing repairs:-
Consequences Of Delay in Water Heater & Plumbing Repair
Mold
Mold is harmful to our health. You can develop allergic reactions due to mold, and they can even damage our lungs in severe cases. Mold is more dangerous for young kids in the house or those with compromised immune systems.
Mold develops in moisture, and if left unattended, they grow continuously. In the worst cases, hire a professional to clean it properly.
Constant Rise In Utility Bills
When your water heater demands repair, and you put off the repair, it has to work harder to meet your hot water demand. Hence, it is obvious that you will see a constant rise in energy bills. Also, if there is any leakage in the water heater, you will end up paying more on water bills. To avoid this, you need to opt for a regular water heater maintenance service in San Diego.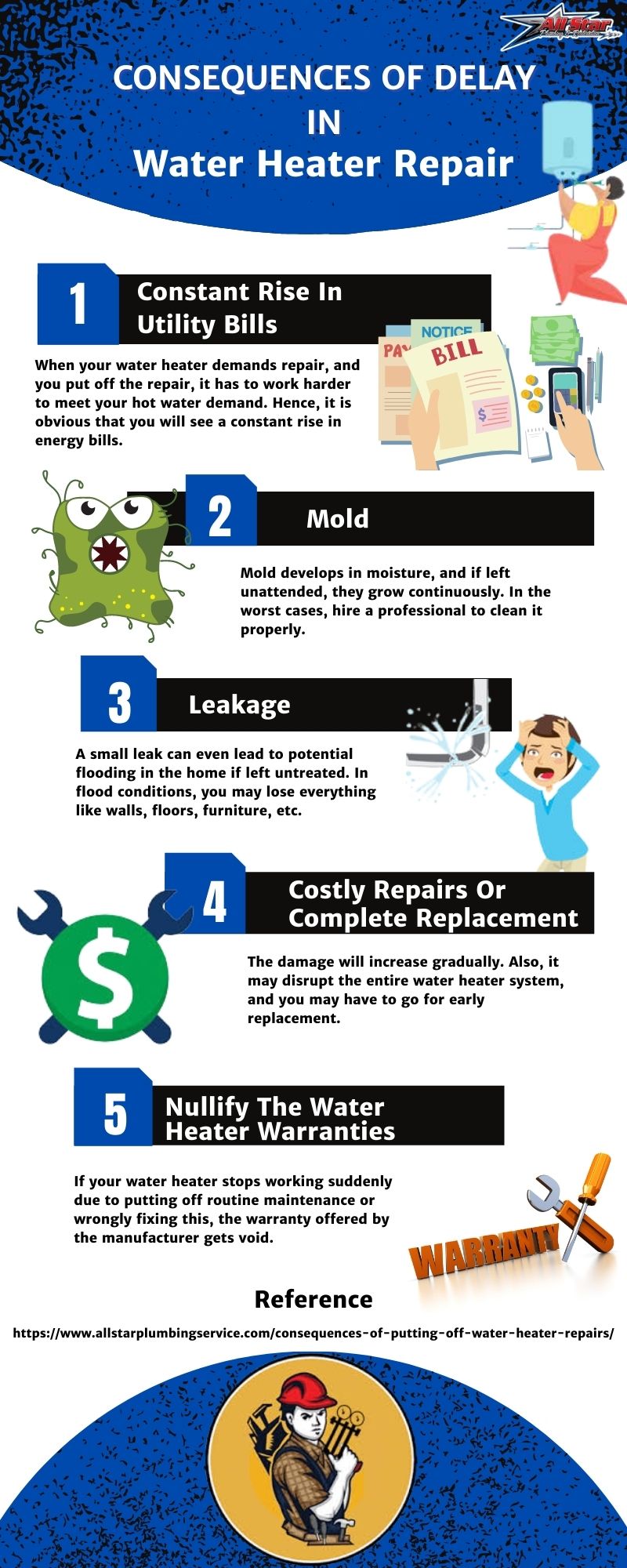 Costly Repairs Or Complete Replacement
If you overlook minor water heater problems and ignore calling professionals for water heater repair in San Diego, the damage will increase gradually. Also, it may disrupt the entire water heater system, and you may have to go for early replacement.
Nullify The Water Heater Warranties
At times, when you are busy in day to day chores, you miss regular water heater maintenance. If your water heater stops working suddenly due to putting off routine maintenance or wrongly fixing this, the warranty offered by the manufacturer gets void.
Leakage
A small leak can even lead to potential flooding in the home if left untreated. In flood conditions, you may lose everything like walls, floors, furniture, etc.
Leakage also leads to mold around the toilet, bathtubs, sinks, etc. However, mold causes rot and health issues. It grows very quickly in moist areas.
Before solving these issues, please turn off the water heater as this can also harm its working. There are chances of total collapse, and if there are leaky underground pipes, this can rot the water heater pipe.
Poisoning Carbon Monoxide
As the water heaters use gas to heat the water, they produce carbon monoxide gas which in the future can leak in the home if you ignore routine maintenance. Also, it can be poisonous for human beings in the house. Every year, many people die due to this reason.
It is advisable to repair the gas water heater promptly to stop the accidents that can happen. Always check there is no obstruction in the knack of the water heater. Also, make sure there are no gas issues in your heater.
The Explosion Of Water Heater
If the water heater is not maintained in time, it can explode. If the temperature and pressure valve fails, this leads to a burst in the water heater's tank. There is an option in the water heater to safeguard it from the explosion, but proper maintenance is always necessary.
So, don't delay the water heater repair. Call All Star Plumbing & Restoration professionals for water heater repair in San Diego as they will repair your water heater precisely and, if needed, install the new one.
Symptoms When Water Heater Needs A Repair
If the water coming out of the water heater is brownish or yellowish. There are chances of dirt or rust in the water heater. The water running out of the water heater brings this rust with it, and this water is harmful to use.
A water heater is an appliance, so it may produce an occasional noise due to barrage in the pops, cracks, bangs, or rusting around the water heater. This shows a requirement for the repair of the water heater.
It is necessary to replace or repair the old water heaters, leading to harmful or severe accidents.
If the water coming out of the water heater is smelly or has a strange taste, then it is advisable to repair the water heater as this can be caused by the mold in it, which is very harmful to the health of the human being consuming it.
The leakage in the water heater can cause an electric shock to pass in the water, which can be very dangerous. So it should be repaired by that time.
Minerals collect near the water heater, which can restrict the hot water to supply or lower the hot water pressure in the water heater. You can contact the best water heater repair service in San Diego if your water heater faces such problems.
Signs Of Water Damage
Moisture, wet spots, or musty odor are all signs of water damage.
Sagging ceilings or bulging walls are often indicators that moisture has seeped into the home's infrastructure.
Water may have entered through a window or door that is not properly sealed, broken piping inside the wall or ceiling, faulty appliances like dishwashers, broken water heaters, or toilets.
The carpet's padding may be soaked through and require replacement.
If you see mold or mildew forming anywhere in the home, call for water damage repair service in San Marcos immediately.
You should also contact a restoration company if any electrical items start to malfunction due to wetness. Replacing electrical components is often costly and may require hiring an electrician.
Final Thoughts
A water heater is a necessity these days, but it is crucial to repair them timely so that you can take full advantage of them. If a water heater builds up sediments, this can cause it to work harder and can also lead to severe problems. Things like pipe bursting, loss in water pressure, or even break-down in the tank can happen due to late repair of the water heater.
If water is taking a long time to heat up, it is a sign that it needs a repair or some problem with the water heater. One more major sign of water heater repair is a rise in the water bills or electricity bills. On average, a water heater works for ten years only, and the electric water heaters can work for a bit more than the gas water heaters. Of course, regular water heater maintenance will help to elongate the life of your water heater.