All Star Plumbing & Restoration offers plumbing repair and heating and cooling systems repair services across Escondido. We have decades of experience in this field. Our motto is to have happy customers, well-satisfied with our plumbing and professional HVAC repair services.
Licensed and insured plumbers, with vast experience in solving plumbing issues for residential properties, we can deal with any kind of emergency or complex repair requirement with efficiency.
We have teams of installation experts too. If you are retrofitting your existing property, or moving into a new one, and require experienced and certified plumber in Escondido to install pipes and plumbing products, give us a call. We offer free consultation and estimation, and will provide end-to-end services from helping you choose products that best suit your property and interests to having them installed and maintained.
Repair, replacement, installation or maintenance, whatever be your plumbing project, call us for getting the best experience. Our Plumber in Escondido is at your service 24/7.
If you find a clogged bathroom in the middle of the night or a dripping faucet causing water to spill across the kitchen at an odd hour or any other situation that calls for an urgent repair, calling us is in your interests. Within minutes, you will get an expert technician or plumbers in Escondido CA at your doorstep. They will have the resources and skills to get the situation under control and the repair done speedily.​
Emergency plumbing repair and same-day services are available for residential Plumbing Service in Escondido needs. You get guaranteed repair services in Escondido, CA, and any products we replace or install come with long-term warranties.
Call Our plumbers in Escondido CA for Durable Solutions
When looking for a plumber in Escondido, what do you have in mind? Short term low cost repairs or plumbing solutions that result in long-term piece of mind without being expensive. If it is the later, then calling All Star Plumbing & Restoration is the right choice. While an uncertified handyman can follow an installation guide and might do a good job, an our professional assures you get certified products for optimum health, safety and efficiency, and that the entire installation process has all standards and related requirements correctly followed.
Our plumbers offer a range of services, which includes:
Drain Cleaning and Pipe Repair – kitchen, bathroom, floor, roof, underground and exterior drains
Sewer Plumbing – sewer camera inspection, removing root infiltration and debris removal
Slab Pipe Leak Detection and Repair – slab leak detection and inspection, spot repairs and repipe
Qest Plumbing – leak detection, pipe and fittings repair and repipe
Water Heater Services – inspection, maintenance, leak repair, heater repair and replacement
Plumbing Installations –  for kitchen, bathroom, toilet and other interior and exterior requirements
Appliance Repair – water filtration units, water softener system, dishwashers, sinks, etc.
Water Damage Repair – water extraction, cleanup, odor removal, plumbing repair, etc.
Gas Leak Detection and Repair – gas pipe leak repair, repipe and appliance repair
Other Plumbing Services  – plumbing inspections, preventive maintenance, etc.
Find out how we can help you with cost effective repairs and maintenance. Call our plumbers in Escondido CA.
PROFESSIONAL DISCOUNTS
FREE ESTIMATES OR QUOTES
LICENSED AND INSURED
DISCOUNTED INSURANCE DEDUCTIBLES
24/7 EMERGENCY SERVICE
60 MINUTE RESPONSE TIME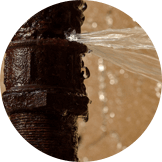 Water Damage – Escondido
Certified water damage specialists, with over 20 years of experience in restoration.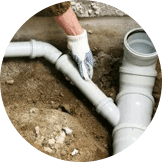 Slab Leak Repair – Escondido
We can identify slab leaks beneath your foundation and repair them quickly.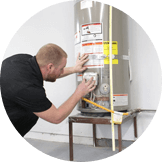 Water Heaters – Escondido
Weather you need a brand new water heater, or just a repair, we can get your hot water back.