How to Spot Water Damage Caused by a Leaking Roof?
Water damage can cause major problems that you can't ignore. Keep an eye out for roof leaks before they cause damage to your house and safety.
Procrastination may be used to solve a variety of domestic issues. In addition, a leaking roof, on the other hand, should be at the top of your list of house maintenance concerns. Roof leaks can occur due to a number of factors, including poor roof construction, wind or storm destruction, and a lack of upkeep. You may also need to replace your roofs. Remember that most roofs are designed to endure just 20 to 30 years.
Isn't it true that even a minor roof leak may be disastrous for the entire family? Most homeowners believe that a leaking roof is only a structural issue, but it may pose a number of additional safety and even health hazards. Constant water infiltration will ultimately make its way down from the attic to the house's foundation, inflicting a lot of expensive damage along the way. Here are a few less visible ways a roof leak might cause harm to your house.
6 Major Issues Related to Water Damage
Increased Utility Expenses And Misused Energy
Excessive utility expenses are a consequence of a leaking roof, as water penetration wreaks havoc on the attic insulation. It takes some time for the insulation to dry out when it becomes soaked. Chronic water infiltration will erode the insulation and cause your home to lose heat and cool air, leading to increased energy bills if a roof leak restoration is pushed off for a long period.
Mold And Mildew Problems In The Home
Mold and mildews is one of the most significant long-term effects of a leaking roof. Mold may travel throughout a home's structure, into the heating system, and then via the vents to the rest of the house, where it can infest carpets, furnishings, and even clothes.
The most frequent kind of mold that develops because of prolonged water exposure is black mold. Although hazardous black mold is uncommon, non-toxic black mold can cause damage to wood frames, ceiling tiles, and wall and floor covering. Mold is hard to remove, and it is expensive.
Mold Poses A Health Risk
According to the experts, mold and mildew can cause significant health problems, particularly for individuals with high susceptibilities, such as joint pain, rhinitis, skin infections, and asthma. Once the mold is present, spores continue to be generated, causing allergic responses, asthmatic symptoms, and other significant health issues.
Fire Hazard From Water Damage
If the electrical wiring is located in an attic or roof, a leaky roof might result in shorted wires, posing a fire hazard. Experts highly suggest that you switch off the power to the affected area. Also, call a skilled engineer to inspect it.
Ceiling And Attic Damage
Damage to the attic and goods kept there are the first hazards of a roof leak. The internal ceiling will be damaged if there is no attic or if the leak is large. Ceiling painting may discolor, and roof plaster may bubble and swell if it is damaged. Paint and plaster on neighboring walls will be affected by the leaking water. Ceiling-mounted lighting and fans are also susceptible to damage.
Compromised Structural Stability
Broken rafters, ceiling joists, wall structures, or even fascia panels and external decor can all be targets of water incursion because of a leaky roof. Persistent roof leaks create wood rot, and weak, rotting roof structure produces significant issues that necessitate the help of a skilled contractor. If water spills down into horizontal beams and walls, you may have to pay for costly wood frame repairs.
Water-damaged wood that is spongy and fragile can result in peeling paint, ruined ceilings, and bowed wall hangings. If there is a significant and long-term roof leakage, structural damage is unavoidable. That implies a large portion of the damaged ceiling might give way and fall, causing damage to whatever is beneath. It's bad enough to find your computer or television under a fallen ceiling, but it's far more terrible if you're trapped beneath it.
Expert Tips To Identify Water Damage From A Leaking Roof
Thankfully, you can typically detect indications of water damage to your house before you see water pouring from the ceiling. Here are the six most typical indicators of water damage produced by a leaking roof.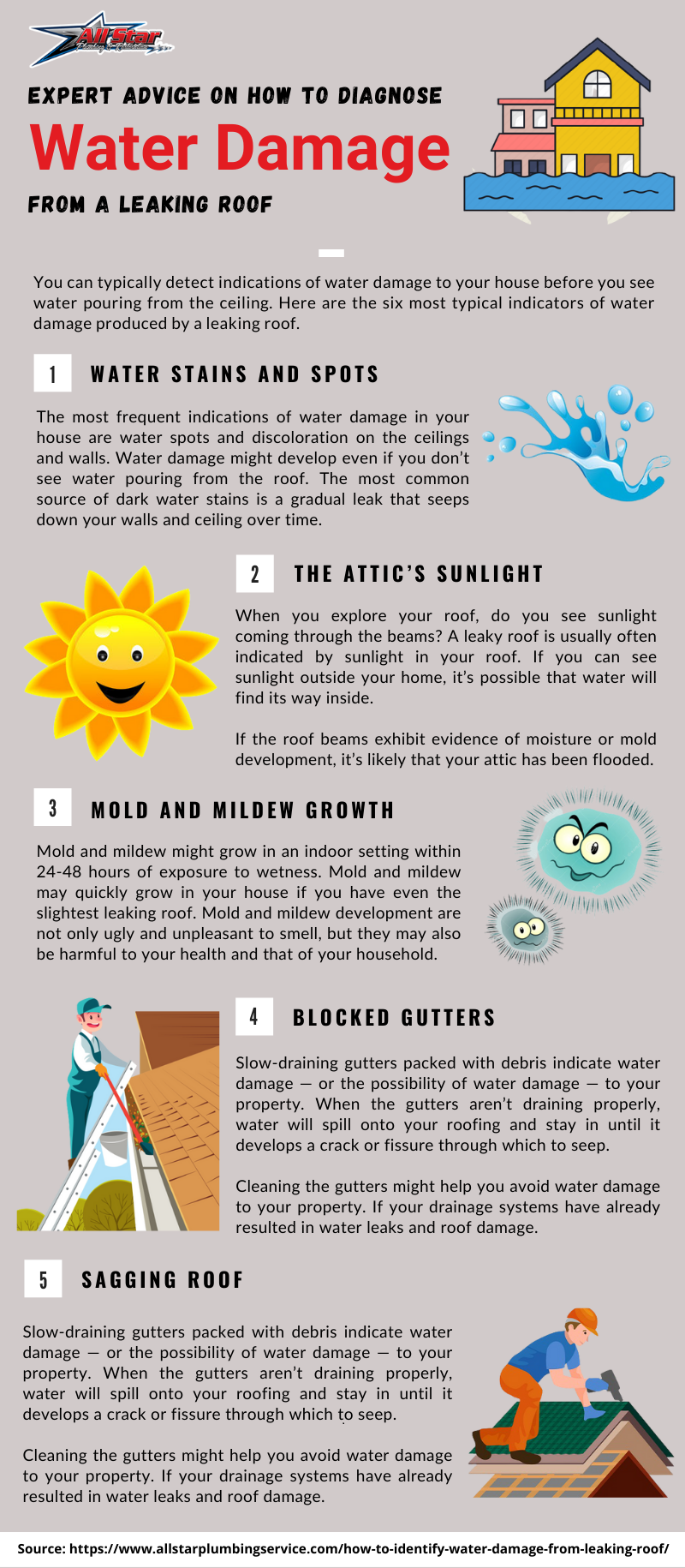 Water Stains And Spots
The most frequent indications of water damage in your house are water spots and discoloration on the ceilings and walls. Water damage might develop even if you don't see water pouring from the roof. The most common source of dark water stains is a gradual leak that seeps down your walls and ceiling over time.
Here are some indications of water damage associated with water spots caused by a leaking roof:
Spots of discoloration on the ceilings and walls
Ceiling paint that has been darkened
Paint that is peeling, damaged, or bubbling
The Attic's Sunlight
When you explore your roof, do you see sunlight coming through the beams? A leaky roof is usually often indicated by sunlight in your roof. If you can see sunlight outside your home, it's possible that water will find its way inside.
If the roof beams exhibit evidence of moisture or mold development, it's likely that your attic has been flooded. To avoid future water damage from wreaking havoc on your house, you'll need a roof fixing.
Mold And Mildew Growth
Mold and mildew might grow in an indoor setting within 24-48 hours of exposure to wetness. Mold and mildew may quickly grow in your house if you have even the slightest leaking roof. Mold and mildew development are not only ugly and unpleasant to smell, but they may also be harmful to your health and that of your household.
Mold and mildew should be removed as quickly as possible, but keep in mind that they will return until the moisture source is removed. Consider replacing your roof to avoid the recurrence of mold and bacteria.
Blocked Gutters
Slow-draining gutters packed with debris indicate water damage — or the possibility of water damage — to your property. When the gutters aren't draining properly, water will spill onto your roofing and stay in until it develops a crack or fissure through which to seep.
Cleaning the gutters might help you avoid water damage to your property. If your drainage systems have already resulted in water leaks and roof damage, contact a professional in water damage repair service to determine if your house requires a new roof.
Sagging Roof
Snowfall or ice heaps that have thawed on your roof and created water damage leading to a sagging roof. The attic is the greatest area to look for a sagging roof.
A sagging roof is not just an indication of a leaky roof, but it is also extremely hazardous to your home's construction. If you detect a sagging roof, you should promptly call a roofing professional to get it replaced.
Missing or Damaged Shingles
Have you seen any broken shingles on your roof, as well as shingles that are deformed, blistering, or collapsing? If this is the case, your roof may have suffered water damage, and your home may have suffered too.
Water damage is indicated by curling tiles and broken shingles that expose your roof to the weather outside. When the roof is exposed to the element, such as wind, snow, or hail and shingles are broken, a roof leak may develop rapidly.
To avoid future water damage to your roof, a roof repair using asphalt shingles is a great option. Asphalt shingles are the finest way to safeguard your property from water damage, according to our roofing contractors.
Dangers of Waiting
When a roof leak occurs, it is critical to respond immediately. Roof leaks never go away or get fixed on their own. Even though the leak isn't very severe right now, this is the time to repair it. We often hear from people who have seen a discoloration on their ceiling or perhaps some bubbling for some time but dismissed it as unimportant. A leak in the roof will not be fixed by avoiding it or ignoring it. In many instances, it would be too late by the time you discover the damage in your house. Your roof should be inspected twice a year, according to the experts. If your roof is less than fifteen years old, it may most likely be repaired rather than replaced entirely. Just keep in mind that a tiny leak will not go away; instead, it will worsen.
Roof leaks are usually signals of a much bigger issue. If left ignored, both the risk and the likelihood of structural degradation grow. Your greatest protection against a leaking roof is annual checks. Keep an eye out for leakage and speak to your water damage restoration contractor about the state of your roof on a frequent basis.
If you notice a roof leak early enough, you can usually manage it with only a wet-dry vacuum and a few blowers. Eliminate as much moisture as possible from the area, completely dry the damaged items, and keep an eye on them for indications of issues over time.
Mold often appears as brightly colored patches that grow over a surface; however, mold isn't the only form of flood damage. Even when they are dry, wet ceilings, for example, undergo a color shift. Wait at least a week before applying mold-resistant paint to the dry surfaces.
A roof leak may cause a lot of water damage to your flooring. Restoration is the safest choice when wet carpet cushioning sits for longer than a few hours. If replacing the carpet isn't an option, at the very least, remove the ruined carpet and dispose of it. Mold may cause severe disease when it grows in carpet padding. It isn't worth taking the chance. Damage to wood may need repair as the wood bends and twists with time.
Fortunately, by keeping on top of house maintenance, you can frequently prevent the risks of roof leaks. To arrange routine monitoring and protect your property, contact our Water Damage Repair Experts in Escondido.
Important Advantages Of Hiring Water Damage Restoration Solutions
Water damage restoration may be as easy as scooping out the water and drying the space out, or it can be as complicated as replacing an entire block of drywall.
Water cleaning, moisture extraction, sanitizing, and mold testing/remediation are just a few of the steps involved in restoring a water-damaged home to its original habitable state. If you are unsure whether hiring a professional Water Damage Repair service in Escondido is worthwhile or not, consider the following advantages.
1. Quick Restoration
Experienced water damage restoration services react quickly by cleaning up the water, drying and disinfecting the space, and making any required repairs in a timely manner. In addition, the business has sufficient staff and the necessary equipment to do the task in a couple of hours.
2. Mold Removal
Mold development is one of the most serious problems that your house or company may face, second only to water. Mold may grow in a variety of places, including ceilings and under the wooden siding. Since most molds are poisonous or cause allergic reactions, attempting to remove them on your own may be dangerous. By enlisting the help of a water damage repair service company, you can be certain that the mold will be fully eradicated and that your property will be safeguarded from future mold infestations.
3. Lower Losses And Expenses
Water damage is expensive, and it may happen in a matter of hours. The distinction between just sanding and spraying over water damage on your wall and having to rebuild an entire piece of damaged drywall depends on how quickly you contact the experts. Because the water will be removed and the space dried up in a short period, engaging restoration services right away lowers the overall cost of repair and damages.
4. Professional Advice
It may be difficult to tell if your wet carpet, walls, appliances, or furnishings are ruined or can be recycled after your home has been damaged by water. Professionals that specialize in water damage repair can examine your home and offer expert advice on the degree of the problem.
Choose All Star Plumbing Service Anytime!
With all of your water damage and mold cleanup requirements, All Star Plumbing Service is the company to call. Do not wait if you detect a leak in your house. Our local experts can assess if your home is in danger and whether you have water damage from a leaky roof fast. To get started, call us or fill out our online appointment request.
We comprehend that you'd like to work with a professional that will finish your job quickly and handle your house with respect. All Star Plumbing Service has been providing expert installation of premium roofing materials to hundreds of happy homes for many years. We would like you to enjoy a lasting impression with a high-quality water damage restoration, no matter how difficult it is.
To begin the process, contact us for a free quote.